When @idp_uk tweeted yesterday that digitised images of Tangut manuscript fragments Or.12380/187 through Or.12380/290, collected by Aurel Stein from the Tangut fortress city of Khara-Khoto during the summer of 1914, were now available on the International Dunhuang Project site, I dropped what I was doing to have a look. Quickly scanning through the newly uploaded images, two or three items caught my attention as possibly of interest. The first item I looked at was this sheet of manuscript paper comprising ten columns of Tangut text written in a fairly neat, semi-cursive hand. From the regular tear repeated three times along the bottom, it would seem to be part of a scroll that was damaged when rolled up—fortunately, and against all expectations, the tear is positioned such that there is very little loss of text.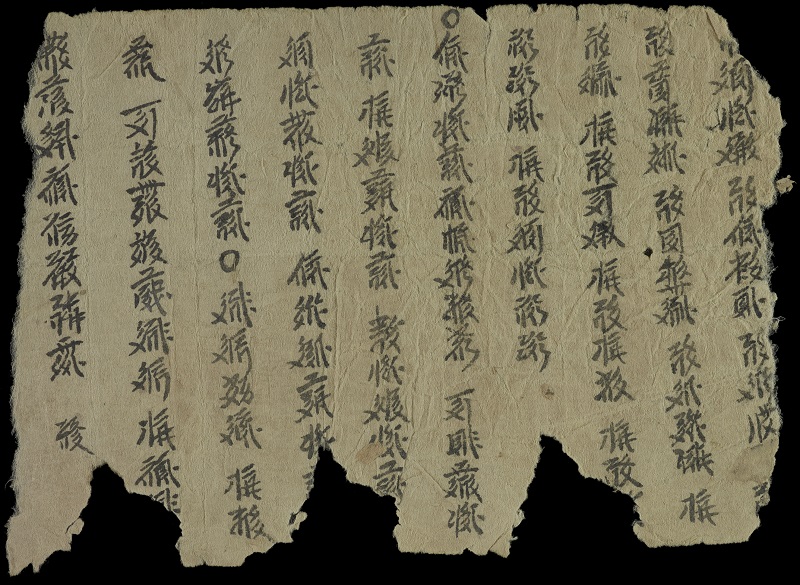 British Library Or.12380/226 (Stein no. K.K.II.0284.l)
What caught my attention about this otherwise unremarkable piece of paper was the list of terms numbered 'fourteen' through 'twenty-four' occupying the first four columns (from the right). My initial rough translation, "fourteen, not permanent; fifteen, the wheel turns; sixteen calm; ..." suggested it was a Buddhist text (the wheel turning being a metaphor for Saṃsāra), but it did not give me any idea of exactly what text it was. Intrigued, I continued translating until I got to the end of the sheet, when I encountered the title of the text followed by the word 'end', and I realised that I could have saved myself time and effort if I had started from the end!
Anyway, the title of the text is given as :
le u ir tsir swew gha myr ma
This translates into Chinese as 大乘百法明門本母 Dà chéng bǎi fǎ míng mén běn mǔ, and corresponds to the text entitled 大乘百法明門論 Dà chéng bǎi fǎ míng mén běn mǔ lùn "Treatise on the Gate to Understanding the Hundred Dharmas of Mahayana" in the Taishō Tripitaka (Vol. 31, No. 1614). The original Sanskrit text, Mahāyāna śatadharmā-prakāśamukha śāstra, was written by Vasubandhu (天親菩薩), and was translated into Chinese by Xuanzang (大唐三藏法師玄奘). It is evident that the Tangut version of the text was translated directly from the Chinese version. The text is very short, only 542 characters in length in the Chinese version, and the Tangut text of Or.12380/226 corresponds to the last 110 characters of the Chinese version, which means that about four-fifths of the original scroll is lost or as yet unidentified.
A single copy of the Tangut translation of a commentary on this text, 大乘百法明門本母略釋 Dà chéng bǎi fǎ míng mén běn mǔ lüè shì, is held at the Institute of Oriental Manuscripts in Saint Petersburg, under the pressmark Tang. 337 (No. 300 in Kychanov's 1999 catalogue). However, no copies of the Tangut version of the original text without commentary are recorded in Z. I. Gorbachëva and E. I. Kychanov's Tangut Manuscripts and Xylographs (Moscow, 1963), E. I. Kychanov's Catalogue of Tangut Buddhist Monuments at the Institute of Oriental Studies of the Russian Academy of Sciences (Kyoto, 1999), or Nishida Tatsuo's Catalogue of Tangut translations of Buddhist texts (Kyoto, 1977). So Or.12380/226 may be the only known partial copy of the Tangut translation of this text ... although now that I have noted it, I feel sure that I will start to see fragments of copies of this text all over the place. The surviving Tangut text is transcribed and translated below.
Transcription of Or.12380/226
Tangut Text and Phonetic Transcription*
Translation of Tangut Text
Chinese Text
(Taishō No. 1614)

大乘百法明門論

天親菩薩造

大唐三藏法師玄奘譯

如世尊言。

一切法無我。

何等一切法。

云何為無我。

一切法者。

略有五種。

一者心法。

二者心所有法。

三者色法。

四者心不相應行法。

五者無為法。

一切最勝故。

與此相應故。

二所現影故。

三分位差別故。

四所顯示故。

如是次第。

第一心法略有八種。

一眼識。

二耳識。

三鼻識。

四舌識。

五身識。

六意識。

七末那識。

八阿賴耶識。

第二心所有法。

略有五十一種。

分為六位。

一遍行有五。

二別境有五。

三善有十一。

四煩惱有六。

五隨煩惱有二十。

六不定有四。

一遍行五者。

一作意二觸三受四想五思。

二別境五者。

一欲二勝解三念四定五慧。

三善十一者。

一信二精進。

三慚四愧。

五無貪六無嗔七無癡。

八輕安九不放逸十行捨十一不害。

四煩惱六者。

一貪二嗔。

三慢四無明。

五疑六不正見。

五隨煩惱二十者。

一忿二恨。

三惱四覆。

五誑六諂。

七憍八害。

九嫉十慳。

十一無慚十二無愧。

十三不信十四懈怠。

十五放逸十六惛沈。

十七掉舉十八失念。

十九不正知二十散亂。

六不定四者。

一睡眠二惡作。

三尋四伺。

第三色法。

略有十一種。

一眼二耳三鼻四舌五身。

六色七聲八香九味十觸。

十一法處所攝色。

第四心不相應行法。

略有二十四種。

一得二命根。

三眾同分。

四異生性。

五無想定。

六滅盡定。

七無想報。

八名身九句身十文身。

十一生十二老。


gha lyr mi u
Fourteen, impermanence;

十三住十四無常。


gha ngwy jy je
Fifteen, Saṃsāra;[1]

十五流轉。


gha chhiw den
Sixteen, calm;[2]

十六定異。


gha sha bu she
Seventeen, following;

十七相應。


gha ar dzyr li
Eighteen, speed;

十八勢速。


gha gy chy bu
Nineteen, sequence;

十九次第。


ny gha dzen
Twenty, time;[3]

二十方。


ny gha lew ler
Twenty-one, direction;[3]

二十一時。


ny gha ny ngewr
Twenty-two, number;

二十二數。


ny gha so dzon ngwe tsir
Twenty-three, harmonious character;

二十三和合性。


ny gha lyr mi dzon ngwe
Twenty-four, unharmonious [character].

二十四不和合性。

〇


ngwy tsew jen my tsir
Number five, the dharma of inaction.

第五無為法者。


bu chhiw my du
In brief,[4] there are six types:

略有六種。


lew tsho nga jen my
One, the inaction of void and emptiness;

一虛空無為。


ny ge dzar jen my
Two, the inaction of choosing extinction;

二擇滅無為。


so mi ge jen my
Three, the inaction of not choosing [extinction];

三非擇滅無為。


lyr mi mu jen my
Four, the inaction of not moving;

四不動滅無為。


ngwy se lhe dzar jen my
Five, the inaction of thinking of suffering extinction;

五想受滅無為。


chhiw mor ghe jen my
Six, the inaction of true suchness.

六真如無為。

〇


nga me y ta
As to saying that there is no I,

言無我者。


ny my du
There are two types:

略有二種。


lew pu ti kha lo nga me
One, pudgala without I;

一補特伽羅無我。


ny tsir nga me
Two, dharma without I.

二法無我。


le u ir tsir swew gha myr ma
The original

mother

[text] of the Bright Gate of a Hundred Dharmas of the

Great Vehicle

大乘百法明門本母


jwa
The end

終
* Tangut phonetic transcription is the simple transcription given in Marc Miyake's Tangut Phonetic Database Version 1.0.
Notes
1. Saṃsāra, literally "the turning of the wheel".
2. There appears to originally have been another character after 'calm', which has been rubbed out, leaving just a couple of strokes visible. Below this obliterated character, at the bottom of the column, is the remains of a character which looks like 'ten', duplicating 'ten' at the top of the next column.
3. Twenty and Twenty-one are swapped with respect to the Chinese text, which has "Twenty, direction" and "Twenty-one, time".
4. The Tangut word that I translate "in brief" means 'to shrink' or 'to reduce', and seems to translate Chinese 略 lüè with the meaning 'to omit' or 'to delete', which is incorrect as 略 lüè here means 'approximately'.
---
Appendix : Character Forms
Some semi-cursive character forms

| Line/Pos. | MS Glyph | Character |
| --- | --- | --- |
| 3/10 | | |
| 5/9 | | |
| 8/8 | | |
---
Tangut Manuscript Miscellanea
Hundred Dharmas of Mahayana